Veryfine Products, Inc.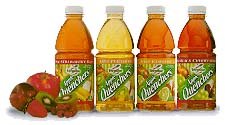 With annual sales of over $200 million, a lot has changed from the days back at the mill in New England. Today, we can produce over 200,000 cases of juice in a single day, but we still take great care and pride in creating the world's finest quality beverages.
Most importantly, from day one, we have remained a business, which prides itself on its people. It is the people of Veryfine® who have improved our products to satisfy the changing tastes and lifestyles of consumers.
Veryfine branded beverage products include: Veryfine® Juices and Drinks, Veryfine Apple Quenchers®, Veryfine Chiller ®Juice Drinks, non-carbonated, non-caloric Fruit2O® Flavored Spring Water Beverages, New Fortified Fruit2O® Plus, and New Healthy Solutions 100% Juice plus Supplements. Veryfine provides a complete menu for Foodservice!
10/02/2008 - Sunny Delight Beverages Co. announced it has signed an agreement to purchase Veryfine juice brands from Kraft Foods Inc.